Leadership is nothing that only exists within the corporate world, it is a core factor in the world of sports. In this article, we will talk about modern leadership and how to be efficient, especially look into how this has been adopted in a sports context. One of the innovators that revolutionised the game of football and developed a new leadership is Arsene Wenger, also called "Le Professeur". You will learn why the single ingredient is called efficiency and why you should remain true to your values and trust the process.
3 leaders who changed the leadership forever
This is the second part of the miniseries about leaders who changed the leadership forever. In this second article, we will introduce the story about Arsen Wenger, why he wanted to be efficient and how to be efficient, like for example changing the diet and changing the status quo.
Leadership lessons from 3 football managers who changed the sport forever
If you haven't read the first part of this miniseries, make sure to jump over there to read more about the growing field of leadership, what leadership is and the introduction about the three football coaches that changed the way to lead in football.
Education about leadership is growing exponentially, it has become a multibillion-dollar industry. Leadership education can be provided in many different formats like conferences, certifications, human resource training, seminars from leadership gurus, coaching, books, and even post-graduation courses. But all of these formats can also be taught and learned from the sports context, particularly in football management.
If you still haven't read part 1 you might want to understand what we mean by leadership. In the first article in this miniseries, we look at leadership as the process (act) of influencing the activities of an organized group in its efforts toward goal setting and goal achievement.
How to be efficient as a leader in the world of football
Johan Cruyff, Arsene Wenger, and Pep Guardiola. These managers not only reinvented the way of training and playing Football but also made it more understandable and exciting for the viewers. In the rest of this article we will look into Wenger's lengthy spell with Arsenal, a radical change in the way football was play and how to be efficient as a leader.
The following piece will cover some of the most common terminologies used in Leadership literature with their academic definitions at the end.
The exotic manager – Arsene Wenger
Arsenal is regarded as one of the first football clubs in England to introduce organizational ambidexterity. On the one hand, the club considered the construction of a new stadium to exploit its growing fan following while, on the other hand, the Gunners wished to explore a unique form of football at the same time. Motivated from the increasing culture of the expensive style of play throughout Europe, Arsenal appointed an exotic French football manager, Arsene Wenger, in the year 1996. Wenger's social constructionism mostly influenced his transformational leadership at Arsenal, which you will learn more about further down.
Arsene's father, who was forced to fight for the Nazis in the Second World War, worked as the manager of his village football team. Arsene completed his degree in Economics from France while he was playing football semi-professionally. Wenger's entire football playing career was in France. After initial football management assignments were in his home country, he had a brief managerial stint in Japan with Nagoya Grampus Eight before joining Arsenal.[1] All abovementioned life events had a substantial influence on Wenger's decisions and coaching methods in England.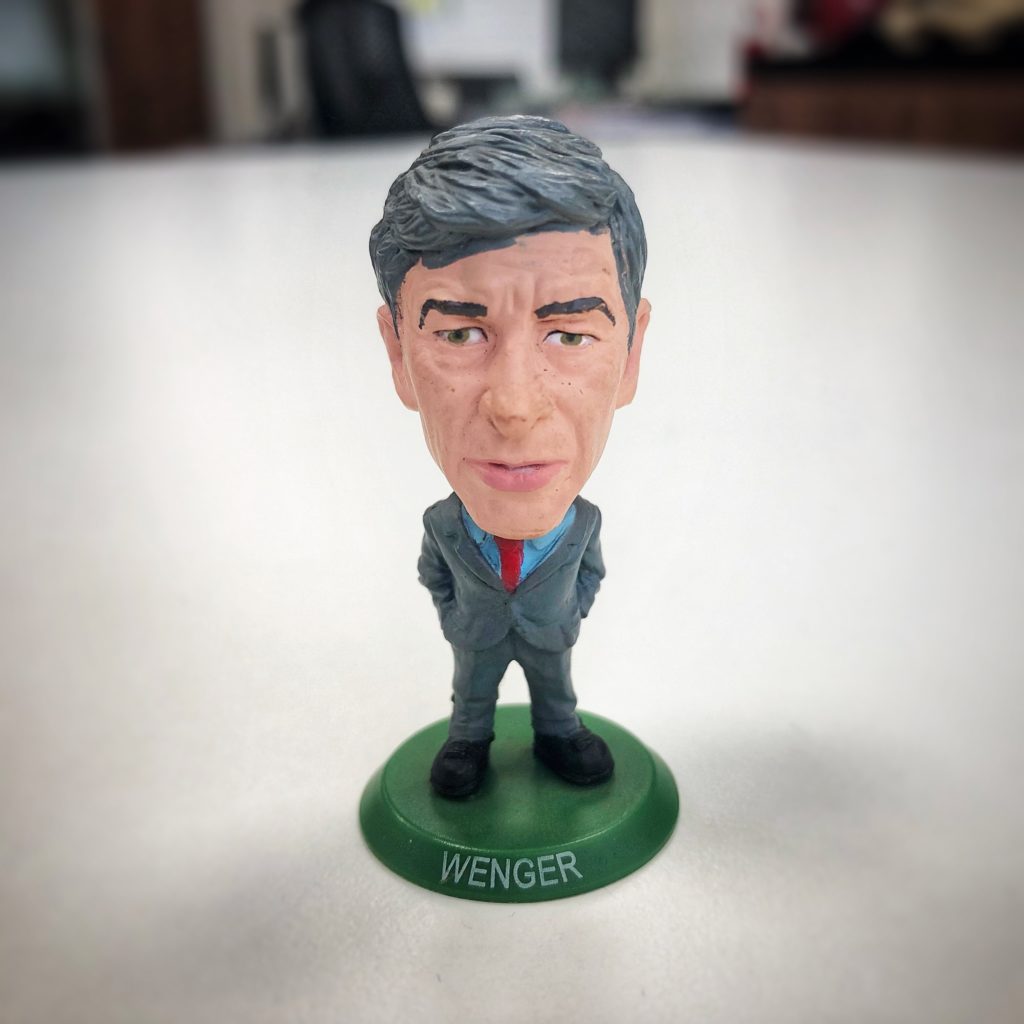 Wenger's artistic football philosophy
As typical French, Wenger had massive admiration for art and culture. He used to see football as the thing of art. Wenger's artistic football philosophy of progression via possession was based on short passes and accurate movement of players. Some of the team goals Arsenal scored during the Wenger era were as delightful as an extraordinary piece of art (including Wilshere's goal against Norwich). Additionally, his signings of classy players like Dennis Bergkamp and Mesut Ozil underlined his love for elegance.
In order to show what we mean with the artistic philosophy, here are Top 5 Arsenal Team goals in Wenger's Era
---
How to create efficient work processes
Wenger's modern leadership with attention to detail and Taylorism (create efficient work processes) in player development and football coaching gave him the name of 'Le Professeur' (the Teacher) by the English media and fans. He initiated the French Revolution at Arsenal through his transformational leadership inspired by his social constructionism and Taylorism. Wenger is regarded as the first football manager to introduce sports science, food supplementation, and diet regimes to enhance the efficiency and performance of the players.[2] His idea of combining technology with diet and football can be contributed to his time in Japan, a country which is considered as one of the pioneers in technology and scientific research.[3] He abolished the drinking culture at Arsenal upon his arrival. According to a famous Arsenal player during the Wenger era, Ian Wright, Arsene restricted players from the consumption of sugar. The manager even considered an improvement in the food chewing habits of the players to increase their efficiency. By doing so, he and his management team believed that the food is absorbed as soon as it ingested.[4]
Having spent almost entire life in France, Wenger was socially constructed in French organizations, which are mostly iceberg-styled. Being the boss at the club, Wenger was unarguable. His strict and disciplined behaviour can also be seen as the result of the military background of his family. Initially, the players felt monotonous and uncomfortable, but as soon as the positive results followed, the attitude of the player towards the leadership of Arsene started to become optimistic. According to Ian Wright, because of amendments in diet and training methods, the Arsenal players were transformed into high performing machines. The players remained injury-free and got less tired during the matches. Their fitness complemented Wenger's modern leadership and philosophy of progression via possession style of playing football.[5]
Another feature of Wenger's modern leadership was the identification of undervalued and underdeveloped players and then utilizing his technical coaching skills and psychological training techniques to enhance their performance, productivity, and value. One of the most excellent examples of Arsene's expertise in player development was the legend of Thierry Henry. Upon Henry's arrival at Arsenal in 1999, the ex-Monaco winger was not confident to play at the centre forward position and told Wenger that he couldn't score goals. In addition to countless hours spent on the training ground, Wenger utilized his mentorship by promising Henry to give ample opportunities irrespective of the number of goals he will score. Later, Thierry Henry went on to become the all-time highest goal scorer in the club's history with 232 goals in all competitions.
From a transformational leadership to a charismatic leadership
Arsene's education in economics along with his knowledge of football gave him the title of 'King of Transfers'. He revolutionized the player scouting and recruitment system with his futuristic ideas. He was ahead of the time as he started exploiting the use of data analytics and worldwide scouting networks before it became a standard in the football industry. Wenger recruited players like Sylvain Wiltord, Dennis Bergkamp, and Marc Overmars who were initially regarded as small and weak for the highly physical English football but went on to become supremely successful Premier League players later. One prominent example of Arsene's eye for talent was Nicolas Anelka. On the recommendation of Wenger, Anelka was signed by Arsenal for a reported fee of £684,000 from Paris Saint-Germain in the year 1997.[6] Two years later, he was subsequently sold to Real Madrid for a transfer fee of £22.3 million.[7]
As a result of the growing international popularity of the club, the Highbury Stadium's capacity of 38,419 started to feel less. In the year 2001, the club was granted permission to build a new stadium with capacity more than 60,000. The £390 million stadium project was given a green light by the Arsenal management prioritizing utilitarianism (the greatest good for the greatest number) over the forthcoming financial pressures. Wenger was the fundamental part of Arsenal's loan repayment of £260 million for the construction of the Emirates Stadium. He has to alter his leadership style from transformational to charismatic to attract new players to the club while keeping hold of the best players under growing financial pressure. The impact of charismatic leadership was so immense that the major banks granted further loans to the club depending on the contract duration of Wenger.[8]
The result of the modern leadership, how to be efficient by Arsene Wenger
Arsene's tayloristic approach helped Arsenal to plan and develop the modern state of the art Arsenal academy. He not only emphasized making the most technically advanced academy but also granted first-team opportunities to several academy graduates. After 22 years of service, in 2018 Arsene Wenger left Arsenal with 3 Premier League Trophies, 7 FA Cups and 7 Community Shields. His most remarkable achievement was winning the Premier League without losing a single game throughout the 2003-04 season, a feat that is yet to be achieved again by any other Premier League team to date.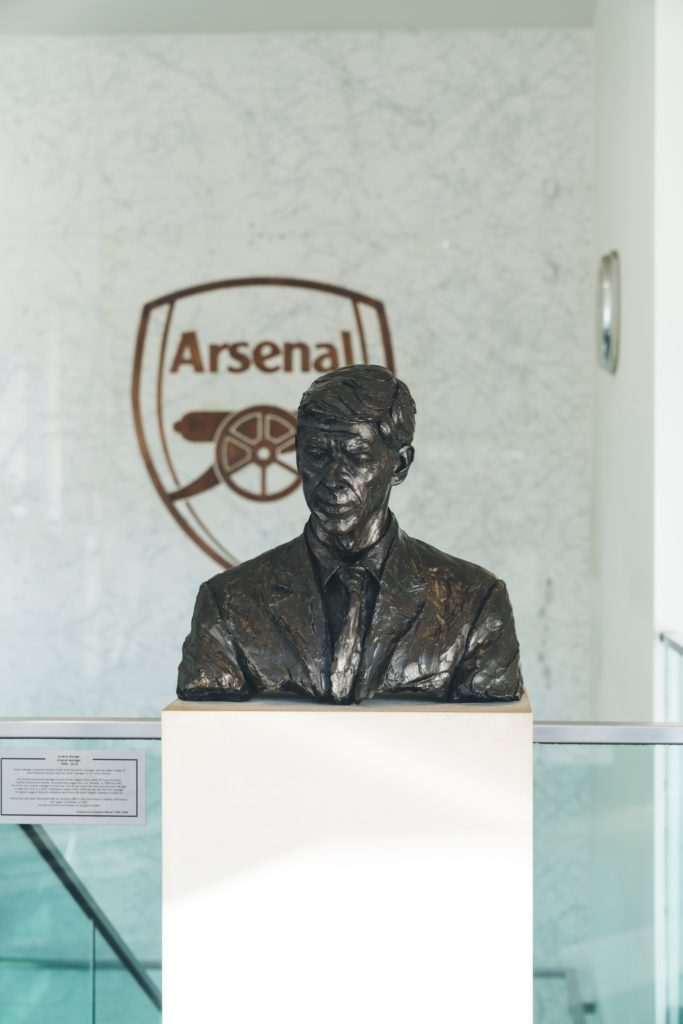 ---
Summary of leaders who changed the leadership forever – Arsene Wenger
All in all, the entire life of Arsene Wenger is nothing less than a modern leadership lesson in itself. As a true leader, Wenger learned from his experiences throughout his life. From a disciplined lifestyle inspired by his ex-military father to his education in economics, he utilized his upbringing to his and Arsenal's advantage. The French manager was never afraid of challenging the status quo whether it is the typical style of play or prevalent drinking culture in English football. There were several instances when his methods were questioned by players, media, and fellow managers. However, Wenger remained true to his values and trusted the process of how to be efficient. With time, the team's performances improved both on and off the pitch. And all his critics who doubted Wenger, in the beginning, were left with no option but to applause.
Another important lesson from Wenger's life is staying focused on your vision while remaining flexible in your approach. Arsene had a clear idea for the club when he first arrived from Japan. Nevertheless, he had to take different approaches to realize his idea on different occasions during his career as Arsenal manager. Initially, he was faced with a challenge of convincing seasoned players to adopt his unique and relatively strange methods, while in later part of his career he faced financial restrictions in the transfer market by the club's board. As a true leader, Wenger overcame it all through his flexible approaches and innovative solutions.
Keeping an eye on the future, upcoming developments and new technologies and their implementation was the core of Arsene Wenger's success with Arsenal. As an efficiency-seeking leader, Wenger improved work processes, identified undervalued human resources and developed them for the long-term profitability of the organizations. Wenger was among pioneers to introduce data-driven scouting, food supplementation, and diet plans in football, which are regarded as standard activities for professional and semi-professional football clubs throughout the globe.
Modern leadership lessons from Arsene Wenger in bullet points
Learn from past experiences and use your upbringing to your advantage
Never feel shy to challenge the status quo
Remain true to your values and trust the process
Stay focused on your goal but remain flexible in your approach
Stay open to new ideas, keep an eye on future, upcoming developments, innovations, and new technologies
Improve efficiency of work processes, identify undervalued human resources and develop them for long-term profitability
This is a blog post written by author Shrey Upadhyay.
Next up Pep Guardiola
This was the second part of the miniseries about leaders who changed the leadership forever. Stay tuned for the third part, where will introduce our next great leader from the sports world, Pep Guardiola.
If you missed out from the first part about Johan Cruyjff, you can head over to the first part about leaders who changed the leadership forever here.
Academic definitions of terms used
Organizational ambidexterity – Organizational ambidexterity can be understood as the relationship and dynamic potential operating between exploitative and explorative resources and dispositions in organizational contexts.[9]
Social Constructionism – A philosophical approach to understand how people make sense of, and act in relation to, other people, their interactions and the contexts in which these take place.[10]
Taylorism – A modernistic approach developed by Fredrick Winslow Taylor to create efficient work processes for the organizations.[11]
Iceberg-styled – An Iceberg styled organization has stronger informal and intangible elements like values, attitudes, beliefs, leadership style, behavior, organizational culture, power, politics, informal groupings, conflicts, etc. as compared to formal elements like goals, strategy, structure, standards, procedures, products, services, management, financial resources, etc.[12]
Utilitarianism – Utilitarianism in simple language can be defined as the greatest good for the greatest number.[13]
Charismatic Leadership – Charismatic Leadership refers to the type of leadership in which the followers follow the leader because of emotions rather than calculations. They are inspired to enthusiastically give unquestioned obedience, loyalty, commitment, and devotion to the leader and to the cause that the leader represents (House, 1976).
---


If you like this, you might want to go further and read these:

– How to get a job in tennis
– What a current sport management student needs to know
– For employers and job seekers in the sports industry
– 3 ways to express passion for sports jobs
We want to help more people finding their dream job and also feed you with the latest news and lessons form the sports world. Do you have any feedback or advice or news, please share that to us. You can contact us or reach out LinkedIn.
See you soon with more lessons learned from the sports field that will enhance your creativity and your career in sports.
---
References used in this text
[1] Cross, J., 2015. Arsene Wenger: The Inside Story of Arsenal Under Wenger. Simon and Schuster. [2]
https://www.dailymail.co.uk/sport/sportsnews/article-8211695/Arsene-Wenger-introduced-tablets-Arsenal-sent-stars-Yoda-France-says-Ian-Wright.html
[3]
https://www.usnews.com/news/best-countries/slideshows/top-10-countries-for-technological-expertise-ranked-by-perception
[4]
https://www.youtube.com/watch?v=o1I-LNa_h6Y
[5] ibid [6]
https://www.transfermarkt.co.uk/nicolas-anelka/transfers/spieler/3226
[7]
https://www.thesun.co.uk/sport/football/9154453/nicolas-anelka-real-madrid-training-del-bosque/
[8]
https://www.youtube.com/watch?v=o1I-LNa_h6Y
[9] Stokes, P., Moore, N., Moss, D., Mathews, M., Smith, S.M. and Liu, Y., 2015. The micro‐dynamics of intraorganizational and individual behavior and their role in organizational ambidexterity boundaries.
Human Resource Management, 54
(S1), pp.s63-s86. [10] Stokes, P., 2011.
Critical concepts in management and organization studies: Key terms and concepts
. Macmillan International Higher Education. [11] Stokes, P. (2016) 'Chapter 3: Using critical approaches in managing people and organizations' in Stokes, P., Moore, N., Smith, S., Rowland, C. and Scott, P (2016)
Organizational Management
. London. Kogan Page, 51-66. [12] Siakas, K.V. and Georgiadou, E., 1999, June. Process improvement: The societal iceberg.
In Proceeding of European Software Process Improvement Conference.
[13] Mill, J.S., 2016. Utilitarianism. In
Seven masterpieces of philosophy
(pp. 337-383). Routledge.