What does it take to work in sports and to work in the Premier League? It is time to share experiences and valuable tips from people in the sports industry. This month's sports job spotlight is a person who started as a student and took the 1 % approach in order to find her dream job in sports.
Meet the sports industry from the inside
Harriet Eastham – Senior Research and Insights Executive at Southampton Football Club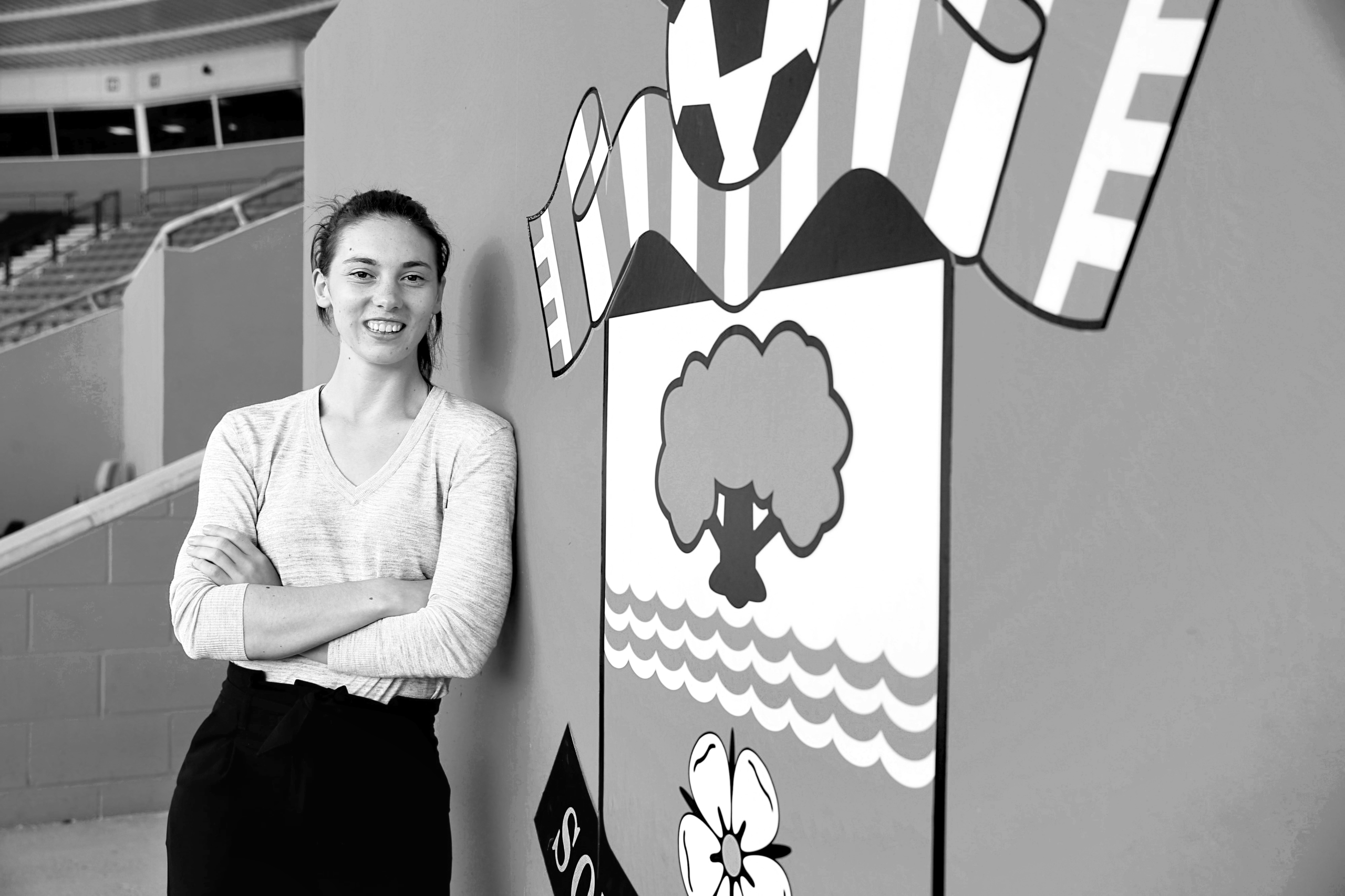 You got a new job in sports, congratulations!
Dear Harriet,
How are you doing? I am happy to connect with a person who is sharing a passion for sports.
You recently got a new job in sports, congratulations! As a person who runs a sports jobs platform with the mission to help more people finding their dream job in sports, I would be curious to ask you questions about your previous role in order to inspire more people finding their dream job in sports 🙂
Hi Jakob,
Thanks for your kind words! Happy to answer any questions you may have.
Ah, that is very kind of you. Let us get right into it.
First questions.
– Why did you decide to pursue a career in sports?
– How did you get involved with Southampton FC?
I wanted to pursue a career in sport as it has a wonderful ability to bring people together. I knew that it was an industry that would be exciting, with no two days being the same, whether that was as a player or in the back office within the club. In regards to data analytics in sport, I knew I wanted to be apart of an innovative industry after being exposed to the work of Billy Bean and Bill James. It fascinated me how you could quantify elements of an industry that at times runs on emotion.
I was very fortunate that following my masters at Loughborough University London, there was a job opening in the Research and Insights department at Southampton FC. The job mirrored exactly what I had learned previously in modules on the course – so it was a dream come true! Fortunately, I grew up in Winchester just down the road from Southampton so I've always been a fan of the club and used to play as a kid for the girls' team so it felt like a bit of a homecoming.
Many thanks for these answers, Harriet!
That sounds like a great story. And, you got back home 🙂
I certainly agree with no two days being the same!
So you did enjoy Loughborough then?
I loved my time at Loughborough and can't speak highly enough of the place.
How to go from sport studies to a sports job?
How were your student experiences from Bachelor's and Master's and how did it help you to get a career in the sports industry? I mean, did Southampton FC only recruit you based on a Master?
And, what steps did you take to close the gap from being a student to working in the sports industry?
I'd say my masters definitely helped my chances of gaining a job in the sports industry. However, a lot of work outside of the classroom took place to make sure that I gave myself every opportunity to be exposed to the industry. I volunteered a lot at various sports events as a videographer, reporter and data analyst to make sure that I was getting in front of the right people to try and show that I was someone that they should take a chance on.
Happy to hear that Harriet. I had my guesses that you probably had done some extra work. At least according to me, I feel companies require something more than just an education.
And does Southampton FC engage and collaborate with any sport management/science university?
We have an academic partnership with Southampton Solent University currently 🙂
Okay. That is good. I guess most of the bigger clubs have some academic collaborations.
---
---
Also, have you heard about EASM?
I haven't but I've started reading up on it and it looks great!
We will actually host our next Sport Management conference in London at your university, which will be mid-September 2020. So pretty close for you and maybe your colleagues and network. We (the EASM board) will actually visit Loughborough University London at the end of November 🙂 Looking forward to visiting it already!
I hope you enjoy your visit!
Yeah, I'm sure some of us would be interested in attending 😊
Thanks! I think you would like it. Do you also have any network and common events you go to among the premier league clubs?
There are certain Premier League forums that those higher up than myself attend, and we've started to see the likes of Facebook run Premier League only events for clubs to give them hints and tricks to getting the most out of their content on the site.
Aha. It sounds like exciting stuff ahead.
Advice on how to enter a new sports job
Last three questions that I am very interested to know from your perspective.

– What is your advice for other people just entering a new sports job?
Enjoy it! The sports industry can be a fast-paced place to work but that doesn't mean that you should become overwhelmed and not enjoy the fact that you are hopefully working in a role or industry that you've always wanted to be in.
– What do you see as the top 3 necessary skills in order to break into the sports industry? It could be soft/business skills etc.
I'd say the business skills can be taught, but what can't be taught is the soft skills of:
(1) Being tenacious – create your own opportunities if you have to. The sports industry is a competitive one to get into, so anything that can give you an extra boost to help you stand out is always a plus.
(2) Having an eye for details – Within sport, it's all about the 1 percent for improvement in both performance roles and commercial roles.
(3) Being a sponge – Try and soak up all of the experience that others have around you and be willing to listen to what they have to say. Sometimes people can be quick to want to prove themselves, rather than respecting others' opinions or experiences. I'm still learning every day from my colleagues, even those that may be younger than me as they bring something new to the business.
– What tips do you have for students trying to get a career in the sports industry?
Expose yourself to as many opportunities as possible and try and put yourself in front of people to grow a network. If you can show others your passion to work within the sports industry, then it becomes infectious and memorable so people are more likely to keep you around and recommend you to others. Also, as cliche, as it sounds, don't give up!
Wow! I really enjoy reading these answers, Harriet. I highly appreciate you and your time to put down these meaningful words and thoughts. I can really align with being tenacious, the 1 % and being the sponge. I actually need to ask you one last question before we say over and out. How do you manage to stay up to date and adding that 1%?
I'm glad you enjoyed them – thanks for asking me! 🙂
I spend the first 30 mins of my day at work having breakfast and reading outlets like SportsPro, Sports Techie and looking for opinion blogs on LinkedIn. I really enjoy learning from others and Ryan McCumber's conferences (F.I.S.T and Sports Analytics World Series) are great resources to meet others and share ideas.
Thanks for sharing that too! You have certainly given a lot of energy and inspiration to the readers and to those that are looking into working in the sports industry and especially in the football industry. With that said I want to say, all the best of luck with your new job and I am looking forward to following your career in the world of sports!

---
If you like this, you might want to go further and read these:
Why EASM helps your sports career
The future of football will be like
We want to help more people finding their dream job and also feed you with the latest news and lessons form the sports world. Do you have any feedback or advice or news, please share that to us. You can contact us or reach out on LinkedIn.
See you soon with more lessons learned from the sports field that will enhance your creativity and your career in sports.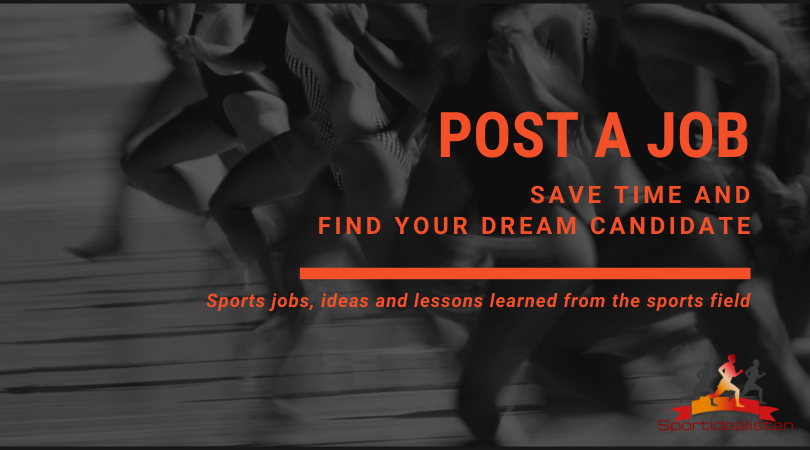 Save time when finding your dream candidate. Post your job within no time. Our vision is to have a world where everyone can work with their passion. On the Sportidealisten website, you have the opportunity to publish vacant job positions. Please create your free account and write your job post today or send your post to us like the Föreningskraft did.