The sports sector is big but as an employer and a job seeker, there are still some challenges to tackle. In this article, we are discovering and sharing some facts, challenges, numbers and solutions about the sports labour market and recruiting. This gives you a good overview of the sports labour market and what the common types of employment in sports are. You will also learn what challenges employers in the sports sector are facing but also some advice and strategies of how to deal with these challenges.
The current state of employability
No one has missed that the labour market has taken a big hit during 2020 because of the Covid-19 virus. And this has also harmed the sports industry. During several months of 2020 many sport teams and organizations haven't been in full operations and most have had empty stadiums and courts, which also means less staff has been needed. And for most of us, this means that there are fewer job opportunities out there, however, this means that there are a lot of great skilled but unemployed people to hire. Obviously if supply exists, it doesn't mean that the demand is in place. On the employer and hiring side, we also have to consider that the economy is not as strong as before. We have a new situation to adapt to. Let us have another look at the current state of employment in general.
Only in Europe and in the United States, 3 million people lost their job from Q4 2019 to Q1 2020

– OECD
From The Organisation for Economic Co-operation and Development (OECD) they have reported that people (aged 20-64) who were employed but got laid off in the European Union increased with 2 million people. From 0.3 million in the fourth quarter of 2019, to 2.3 million in the first quarter of 2020. While in the United States, these numbers increased by 1 million during the same period, from 0.8 million in December 2019, to 1.8 million in March 2020. In the image below you can get a better overview of this big increase with persons absent from work due to temporary lay off.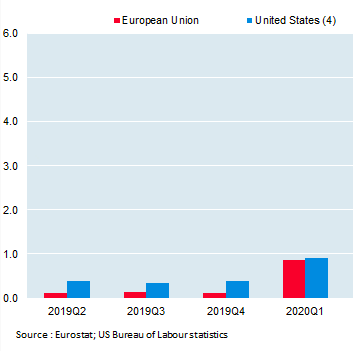 The numbers to the left show the percentage of the working-age population (Persons aged 20-64 in the EU; persons aged 16-64 in the United States). Persons absent from work due to temporary layoffs are counted as 'employed' in the EU and as 'unemployed' in the US.
(4) last month of the quarter
The sports labour market in Europe is growing
Before the pandemic a 3-year European project, ESSA-Sport project was concluded in October 2019. A research aimed to create a debate within the sector on the key issues of skills and workforce development. The aim of the ESSA-Sport project, funded by the European Commission under the Erasmus+ programme, was to establish a European Sector Skills Alliance covering the full breadth of the sport and physical activity sector across the EU.
In order to get a good sense of the total employment in Europe and the total employment in sports, presented below are the numbers showing the total employment in the EU and the total sport employment in the EU.
TOTAL EMPLOYMENT IN THE EU and Total sport employment in the EU (persons aged between 15 to 64 years old) in 2018

Total employment was 223 843 000 people

Total sport employment was 1 765 728 people

– ESSA-Sport project
How many jobs do sports create?
Stated in the Position Paper, a joint call from the sports sector to the EU commission in order to get supported during Covid-19, it is mentioned that every 47th euro (€) is generated by the sport sector. It is also said that there are 5,67 million people involved in sport-related employment, which equals to 2,72 % of the total EU Employment (keep in mind that the numbers from ESSA are from 2018). To summarize this overview, this means that every 37th employee works in the sport sector. The sports sector is a big contributor to the European labour market.
The sport labour market is the total sport employment
If we would only examine the sport labour market we can see a big increase of employed people in sports since 2011, from 1 481 305 people employed in sports up to 1 765 728, which is an increase with 19,2 %. And the majority of these employments are employed workers (85,4 %) and only 257 796 people are self-employed (14,6 %). And not surprisingly 4 out 5 people working in sport has a full-time contract (80,8 %).
EU-28 sport labour market (=total sport employment)

2011 – 1 481 306 people working in sports

2018 – 1 765 728 people working in sports (an increase with 19,2 %)

– ESSA-Sport project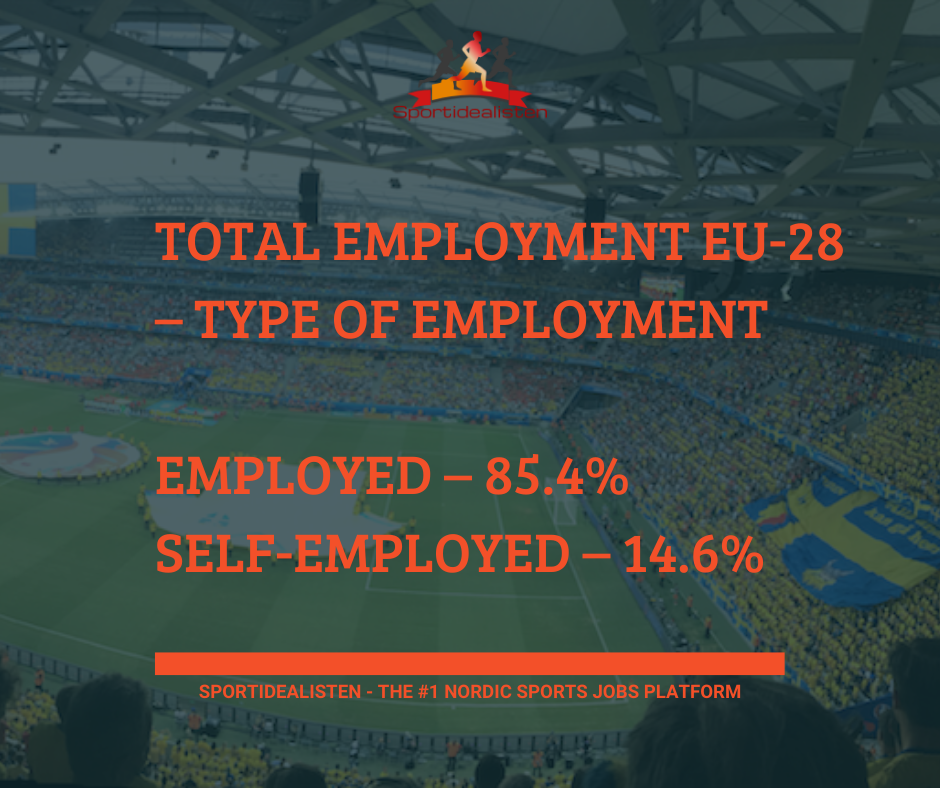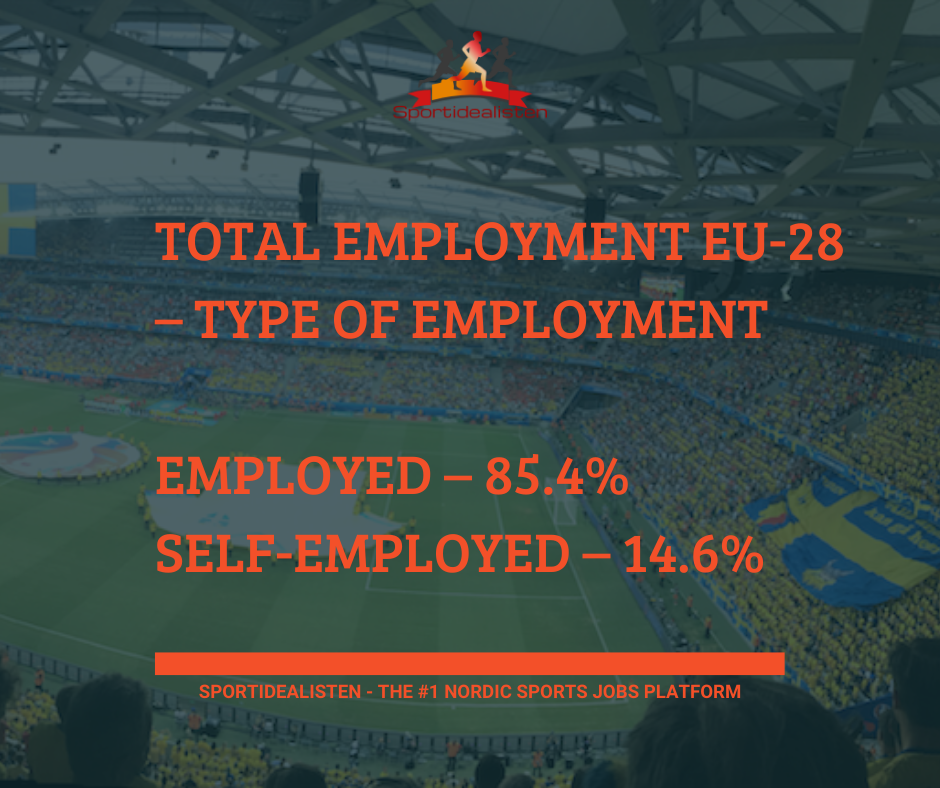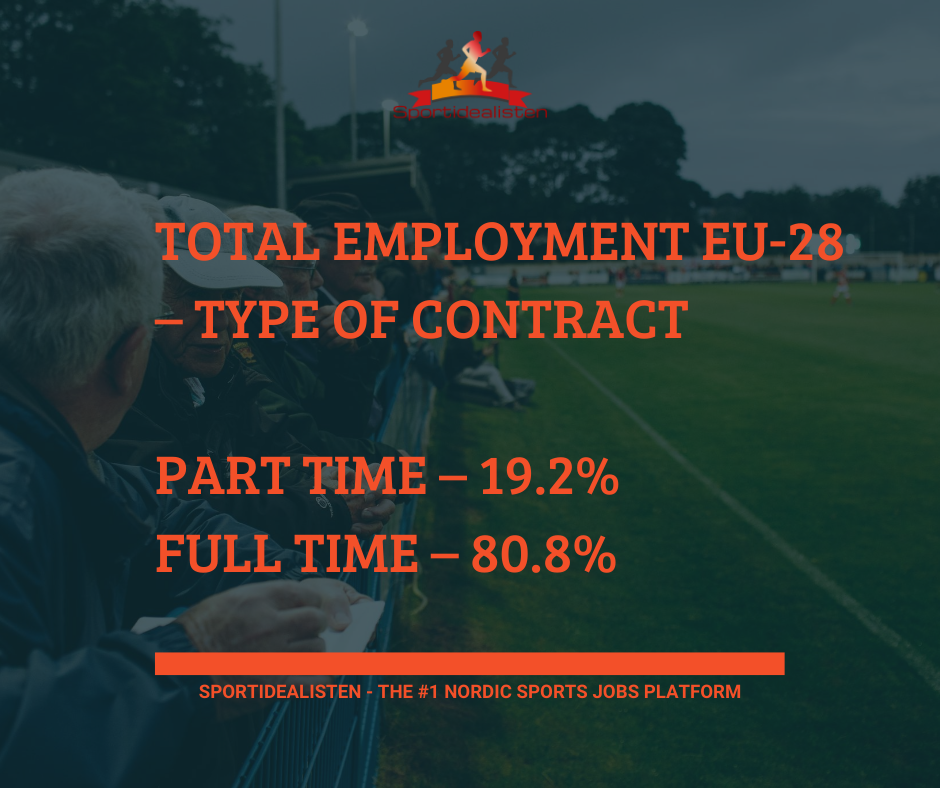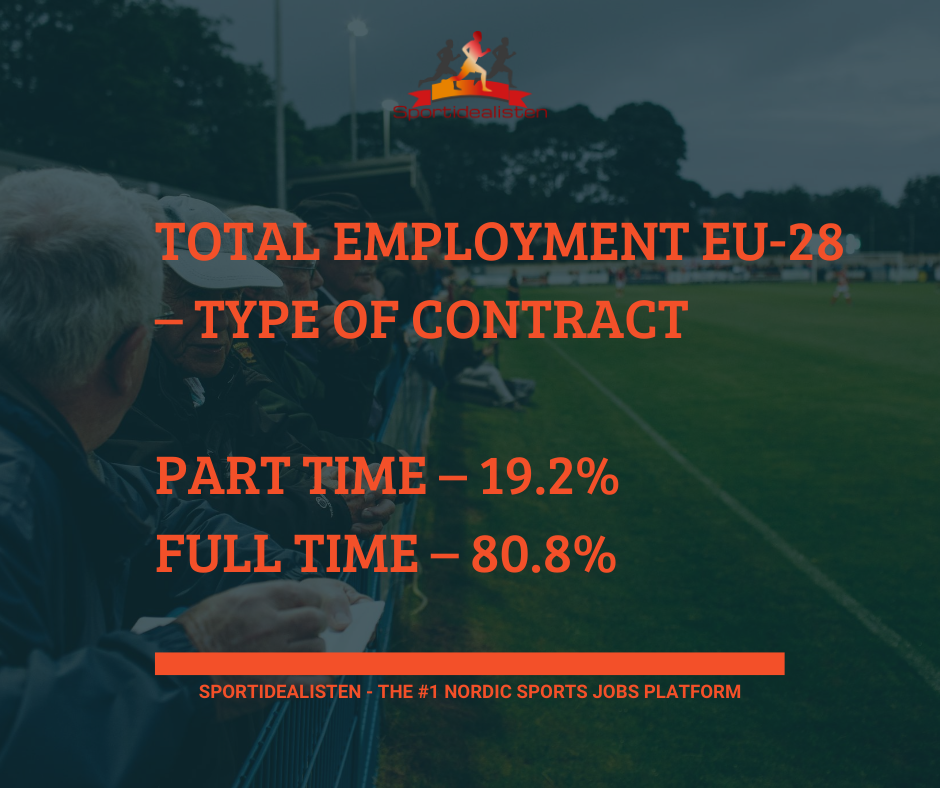 20 national coordinators and 5 European networks built this research and they also identified skills needs and future priorities for the sports sector, which we will pick out a few and go through. If you want the full report it can be found in a detailed European Report as well as National Reports.
Find the full report here: ESSA
Recruitment of sports employees
In the ESSA-project one of the focuses, we want to further refer to is the data about the recruitment of paid employees. During a 12 month period, 3042 responses were collected. Nearly half of them (49,6 %) did recruit during this period. We will now look into the difficulties to fill vacancies, what the top three hardest roles to fill are and difficulties when recruiting.
Difficulties to fill vacancies
Even though not all respondents did recruit in that past year, almost a third (27 %) experienced difficulties filling vacancies (one third replied that they didn't know). When they were asked which role that was the hardest to fill there was one role that stood out, sport coaches (73 %) while the second and third hardest roles to fill were experienced by 1 out 4 employers, which is still quite a lot.
Top 3 hardest roles to fill
73 % Sport Coaches

27.4 % Clerical and office staff

23.9 % Operational staff
Even if a role is harder to fill than another these are not the only challenges in recruitment of sport employees. Employers also expressed their difficulties when recruiting, where the top three difficulties show challenges like low numbers of skilled applicants, unattractive job posts and low numbers of motivated applicants.
Top 3 difficulties when recruiting
45.6% Low number of applicants with the required skills

44.1% Unattractive terms and conditions offered for this post

38.7% Low numbers of applicants with required motivation and attitude
Challenges for the sport sector
There are five key areas when it comes to challenges in the sports labour market and these key areas have been asked and answered by 2930 respondents in the ESSA-report. The key areas are the following:
Find people with right skills
Providing upskilling opportunities
Up to date training
Close collaboration between universities and employers
Inclusive workforce
What are the respondents' experiences with these five key areas and what do we mean with challenges for the sports labour market?
Well, about half (50,8 %) of the people experienced it difficult to find and recruit people with the right skills to work as paid staff.
The majority (91,5 %) thinks it is important that staff have access to ongoing training to keep their skills up to date, but are lacking the implementation.
71,9 % answered that new training courses are required to meet the training needs of sport organizations
Four out of five (79,9 %) said that universities/training providers should work more closely with sport organizations
Most of the respondents (71,5 %) think that the workforce of paid staff and volunteers in the sport sector needs to be inclusive (reflecting gender, disability and minorities in society)
Note that all these numbers are prior to the pandemic of Covid-19. However, it is only one of a few reports that actually covers a big area in sports employability. With regard to the pandemic, it is not hard to estimate that numbers around employed people have decreased during 2020. But there are still great knowledge and insights from this report that is important to consider.
We know that finding the best candidates and sports job isn't as easy as in many other industries and it takes a lot of time. That is why we are changing this, a niched platform where you can only find candidates and jobs from the sports industry.
Do you want to recruit in a smart way? Are you part of a growing sports organisation and want to be part of our platform? We have daily new sports job seekers.
Build a recruiting strategy
According to the sports labour market, almost half (44,1 %) answered that the terms and conditions are bad, which tells us that there are challenges around the candidate's experiences. Since this is an important part of the hiring process, we will provide you with some advice on how to build a recruiting strategy. A great hiring process involves both the hiring sports club and the job candidate. Helping your future employee with a good recruiting process will help you find and hire sports employees faster. Talent is four times more likely to consider your company for a future opportunity when you offer them constructive feedback, according to a LinkedIn report.
There are several steps you could do to improve your candidate experience and find the best talent for your organization in the sports sector. We have written about three smart recruiting tips on how to become a smarter recruiter today. The first solution is called Frequently Asked Questions (FAQ). The second one towards a smarter recruiting is recruiting where your ideal job candidate is. Lastly, when you are hiring a role you have less knowledge about, talk with your network first.
Talent is 4x more likely to consider your company for a future opportunity when you offer them constructive feedback.

LinkedIn
How you find great talents in the sports sector
2 out of the 3 top difficulties when hiring in sports covered the lack of skilled and motivated job candidates. These problems are part of how Sportidealisten came about. Finding sports jobs has been a big challenge as well as knowing where skilled and motivated top talents are. Sportidealisten was founded with the mission to connect future employees and employers in the sports industry and to provide impactful matches between hiring managers and job seekers in sports.
If you are a hiring manager we can't stop talking about the importance to understand the job seekers. According to Glassdoor half of the job seekers prefer finding job opportunities on job sites, and this makes us proud to work as a niched job site for the sports sector.
51% of job seekers say they prefer finding job opportunities on online job sites. 45% hear about job openings from friends, while 35% go to a company's site.

– Glassdoor
Do you as an employer have a mission statement? If you don't you might be missing out the top talents. The majority of job seekers will only apply for jobs that have a clear mission statement. And even if you don't have it clear on your website, make sure to have it clear in your job posts. This is something Sportidealisten can help you with.
One solution to the lack of motivated job candidates is to include your organization's mission statement in your job post because more than half of the job seekers find their motivation from an employer's mission.
79% of job seekers will consider a company's mission before applying. More than half — 66% — of employees find motivation in a company's mission, and 64% attribute their company's mission to the main reason they stay in their current jobs.

– Glassdoor
Best hiring advice
Are you still not convinced of how to manage your hiring process? Let us then share what some of the employers we interviewed said about their best hiring advice.
Do the heavy work, build a job post that really match with what you are actually looking for.

Jessica Pettersson, CEO & Founder at Föreningskraft
I can only share my experience regarding tennis, and it is a rather small community, at least in Sweden. Everyone knows everyone. Just ask around and do not explicitly look for those with the best awards or achievements. Strive to get to know those who really love their work and are proud to work as, for example, a tennis coach.

Emil Holmgren – Club Office Manager at Växjö Tennissällskap (Växjö Tennis Club)
This is the sports labour market and how to hire
As a summary we have discovered the total employment and the total sports employment in more detail. Despite that the pandemic of Covid-19 has made a skilled workforce in sports unemployed, there has been a growth for employment in sports during the past 10 years with an increase of 19,2 %.
Sport is a big factor for the European economy. Every 47th euro (€) is generated by the sport sector and every 37th employee works in the sport sector and most of these people are full-time employed. However, almost a third (27 %) of the sports employers experience difficulties filling vacancies, especially Sport Coaches, Clerical and office staff and Operational staff. And most of the difficulties when recruiting, where low numbers of skilled applicants, unattractive job posts and low numbers of motivated applicants.
Building a recruiting strategy will help you solve the challenges of finding skilled and motivated applicants. Start with learning more about your future employee. But also understand that job seekers look after job sites and they get motivated if they know about an employer's mission statement that you should add in a job post.
Do you have any good cases or advice you want to share with the sports sector, feel free to share with us.
If you need more advice or help recruiting skilled and motivated talents, we are happy to help you.


If you like this, you might want to go further and read these:

– How to get a job in tennis
– What a current sport management student needs to know
– For employers and job seekers in the sports industry
– 3 ways to express passion for sports jobs
We want to help more people finding their dream job and also feed you with the latest news and lessons form the sports world. Do you have any feedback or advice or news, please share that to us. You can contact us or reach out LinkedIn.
See you soon with more lessons learned from the sports field that will enhance your creativity and your career in sports.