Tons of people start every year a sport management education in order to later work in sports, to get that dream job. There are also lots of unanswered questions or hidden tips of how you actually getting through your education and getting closer to that dream job in sports. Therefore, you will get some advice about what to know as a sport management student.
Networking breakfasts are both tasty and inspiring
In early February, I had the honor to talk to current sport management students at my sport management university, Malmo University. During the past decade, we have built up a great tradition at the program where a few networking sessions are taken place throughout each year. This is usually a setup like a breakfast event (of course free breakfast, need to think about the students) where about three people from the sports industry come and talk about their work experiences and sometimes also ask for interns or other help.
In the past few years, these networking breakfasts have been developed into always inviting alumni to do one talk, in order to inspire what other graduates have been up to after the studies. I felt really proud that I was asked to do a talk and to have the opportunity to talk about my journey so far. This was my third time coming back. It is always great to come back and to show as an alumn that the future sport managers have a lot of opportunities ahead.
This is what sport management students should be aware of
What I did talk about during the breakfast got me thinking that more sport management students should be aware of several thoughts and opportunities. I am grateful and happy to keep sharing how far you can go by trying out new tasks and being curious to meet new people.
How to get a job in sports?
Many students in sport management enter their first days at the university and have a hard time understanding how and what they can do to get a job in sports. But that is nothing to be scared of. I had the same challenges. It was hard to know what skills I had and what value I could add to my surroundings.
How I made this trip? Well, I have created my own path. I have been (and I am always) curious and asking questions to experienced people in the sports industry. I am also reading a lot of different books, news, and trends on the web. All of these sources gives me a lot of inspiration and knowledge. Make sure to have different perspectives with different sources, which gives you a critical and more creative and open mindset and this has also been a good benefit in my career.
My personal advice to find a job in sports:
When looking at jobs, one working title doesn't say everything about what that job means and require and if you would like it
Ask people that already know
Go out and volunteer
Keep asking yourself if you do and have tried tasks that you enjoy
Be unique and have your own USP
When it comes down to your name and another candidate to get the job, you need to make sure the recruiter chooses you. How? Well, you need to be different. Be unique and make sure you show it. This will be your unique selling point, USP. Find out at least one thing that is your unique selling point, why YOU? In order to get there, here are four ways to become a bit better than your competitors:
Do more than your future colleagues/job seekers
Read a little bit more
Get to know one person more
Say yes to that extra task
---


If you like this, you might want to go further and read these:

– Why EASM helps your sports career
– Guiden för att jobba i sportbranschen
– Fyra tips till sportjobbet
– Why breadth is important for your career in sports
We want to help more people finding their dream job and also feed you with the latest news and lessons form the sports world. Do you have any feedback or advice or news, please share that to us. You can contact us or reach out on social media, Twitter and LinkedIn.
See you soon with more lessons learned from the sports field that will enhance your creativity and your career in sports.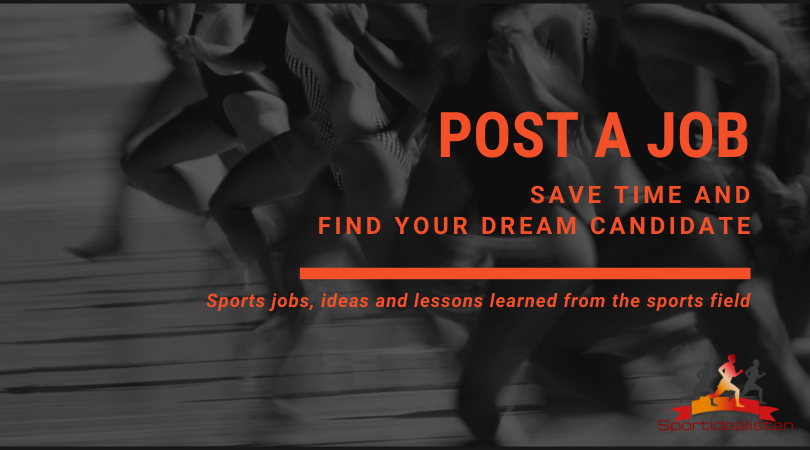 Save time when finding your dream candidate. Post your job within no time. Our vision is to have a world where everyone can work with their passion. On the Sportidealisten website, you have the opportunity to publish vacant job positions. Please create your free account and write your job post today or send your post to us like the Föreningskraft did.