Getting a job in the sports field is quite tough and competitive, so how should you do it? How do you find a dream job in sports? We have talked with Jessica Pettersson that found problems in sports and therefore created her dream job in sports instead of searching for it. Today she helps sports clubs that don't have time for administrative work, which is more or less the majority of the sports clubs at least in the Nordics. In this interview, she will explain how she did to achieve her dream job in sports and she also provides advice on how you can create yours and lastly Jessica will give some tips on how to recruit in sports.
MEET THE SPORTS INDUSTRY FROM THE INSIDE
Jessica Pettersson – Founder and CEO at Föreningskraft
Education background: Public Health Sciences at Karolinska Institutet and Child and Youth Sciences at Stockholm University
What experiences can get you a sports job?
Hi Jessica and thank you for taking the time to share your experiences in the sports industry. Let us start by asking, who is Jessica?
I am a public health scientist combined with a master's degree in Child and Youth sciences. After my studies I found myself in the volunteer sector and worked both at Friends as well as Min Stora Dag (My Special Day). To date I am the CEO of Föreningskraft, where we help sports clubs with administrative work, in areas which they themselves can't do it, don't have the time for or doesn't want to do.
Now, let's get further into sports. Why did you choose to go into sports and work in the sports field?
I have been involved in the sports field since my parents put me in gymnastics at the age of 4. I have then continued working in sports in different roles like an athlete, a coach, a board member, a referee and more.
Sport has given me so much and therefore I want to give back to the community in every way I possibly can. It is a big movement in Sweden and sport is where I have gained joy for a physical active lifestyle and knowledge about leadership.
WHY YOU SHOULD CREATE A CAREER IN THE SPORT INDUSTRY

How did you come up with the company, Föreningskraft?
There are two reasons why I founded Föreningskraft.
I was part of creating a sports club several years ago, and it has steadily grown. However, the board had to work a lot with the operations making sure everything was working. The aim since the beginning has been to be able to hire one person full time. Today we have quite some time left in order to get a good economy and working tasks that are attractive to hire someone part or full time. Then the idea struck me; what if I, for example, worked 25 % in several clubs? Then I could build myself build an attractive work week.
The second reason was more about being more flexible with work hours and work spaces. In order to work in a sports club, you are not necessarily required to work in a physical sports office. A lot of work is today managed with your computer and your phone. By starting up Föreningskraft I also manage to be part of creating a modern work space, where when and where you work are decided by the employee himself or herself.
Right now, we are two people in the company and we are working with different sports clubs where the amount of work varies, from 10 to 50 % per sports club. In this way Föreningskraft has built a network with club officers, sports administrators and project managers, where we exchange experiences, competencies and helping each other. This becomes very valuable since many of the sports clubs only have one employee, which often makes the work quite lonely.
HOW TO GET A JOB IN SPORTS AND THE ROLE OF EDUCATION
You have been a student before and studied health. Can you describe and explain how your student experience was like and how that may have helped you achieve a career in the sports industry?
During my bachelor's degree I got to know a little bit about everything. This was also the time when I gained an interest in evaluation and this has become a big help when several sports clubs are asking for help to evaluate their own clubs. The evaluations have been everything from surveys to interviews with parents, athletes, board members and coaches.
During my masters I learned how to think outside the box and approach different situations and challenges from different perspectives. This has been a crucial part of my career when I am working with sport clubs and their own club development and efficiency.
What steps did you take to close the gap from being a student to becoming a sport professional?
The first step was to start up my own sports club. Within that process I have learned many things about club development, how a sports club is being managed, what challenges comes along and how you can solve those. I have also further deepened my understanding about how a sports club is working and is structured. This is probably the main reason to why I today have the opportunity to work with several projects in different sports clubs.
What does a founder in sports do?
With your current role, what are your different tasks?
Since I am working with several sports clubs there are different challenges and tasks. To give an example, at one club I am managing and developing their website and guidelines. At another I am a project manager helping a club with different competitions and camps and in a third example I might work on coach development, invoices or efficiency within the organization. This variation gives me the joy working at Föreningskraft.
As the CEO of Föreningskraft my main responsibilities are HR, finance and marketing. I have the main responsibilities making sure customers as well as employees are satisfied and getting what they are promised.
Three important skills in THE SPORT INDUSTRY
What three skills are important to step into the sports field
Good questions! I believe in the following:
You need to be a person who is structured and can manage several tasks at the same time.
You should have gained some kind of volunteer experience. It is important to understand why people work for free and put in hours of work into the sports field without earning a single cent.
Lastly, you need a big passion for sports and the sports community. You don´t necessarily have to have any experience or passion for a specific sport, as long as you love sports in general. But knowing what's required and understanding the bigger picture is key to bringing yourself and your surroundings into an engaged working place.
Do this if you would like to work in sports
What advice do you have for students or other inexperienced job seekers who would like to work in sports?
Create your own experiences! That is what I did when I built a sports club together with friends. By working with our own sports club I got to learn how to be a manager and as of today, I am a paid sport manager in a sports club, just to mention one of the roles I carry.
However, you don't have to build your own sports club. You could also volunteer on bigger sporting events, or become a coach in sports. Another way to go could be to step into a committee in a sports club like the educational committee, where you can be part of the development in sports.
How to hire in sports?
Now, heading towards the end. You have recently hired your first colleague to Föreningskraft. Congratulations! Could you explain how you know that the time was now to hire? And how did you know who to hire?
For me it was all about timing. There was one job from a sports club that came in at the right time.
Föreningskraft has been up and running since the fall of 2017 and I have now become experienced with the job and I have achieved a good structure that suits me and the sports clubs. Together with a colleague, we can grow this company and reach the next level.
I received far more applications that I ever expected, which I am very happy about. Many of them were a good match for the job. And why I chose the one I have as a colleague today? Well I had done an analysis of the needs that the sports clubs had and I tried to match that with the applicants. I also considered the right applicant based on an engagement for the company, previous work experiences, education and personality.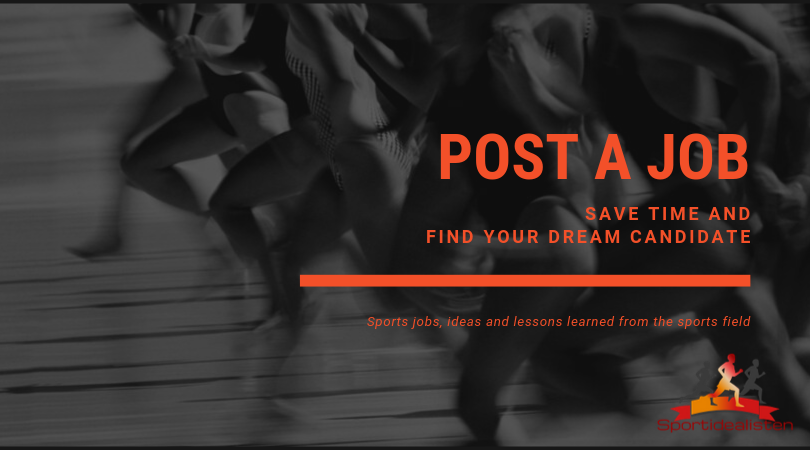 Advice to hire in sports
At last, could you give other sports organizations your three best hiring advice?
Do the heavy work, build a job post that really match with what you are actually looking for.
Take a step back and look into your organization with an objective lens and ask yourself, what do the organization need right now? Then try to hire a person to fill that need.
Contact Föreningskraft and we will solve your sports club's needs with the help of sharp administrators with a "doer" mentality.
---

If you like this, you might want to go further and read these:

– Why EASM helps your sports career
– Guiden för att jobba i sportbranschen
– Fyra tips till sportjobbet
– Why breadth is important for your career in sports
We want to help more people finding their dream job and also feed you with the latest news and lessons form the sports world. Do you have any feedback or advice or news, please share that to us. You can send an email or reach out on social media, Twitter (Jakobs) and LinkedIn.

See you soon with more lessons learned from the sports field that will enhance your creativity and your career in sports.