If you are looking for a job within tennis, then we are happy to let you know that we will share an interview with one person who made this journey. From playing tennis to studying sport management and developing tennis in many ways. Let us find out how Emil achieved his dream, a job in sports.
MEET THE SPORTS INDUSTRY FROM THE INSIDE
Emil Holmgren – Club Office Manager at Växjö Tennissällskap (Växjö Tennis club)
Education background: Sport Management, Dalarna University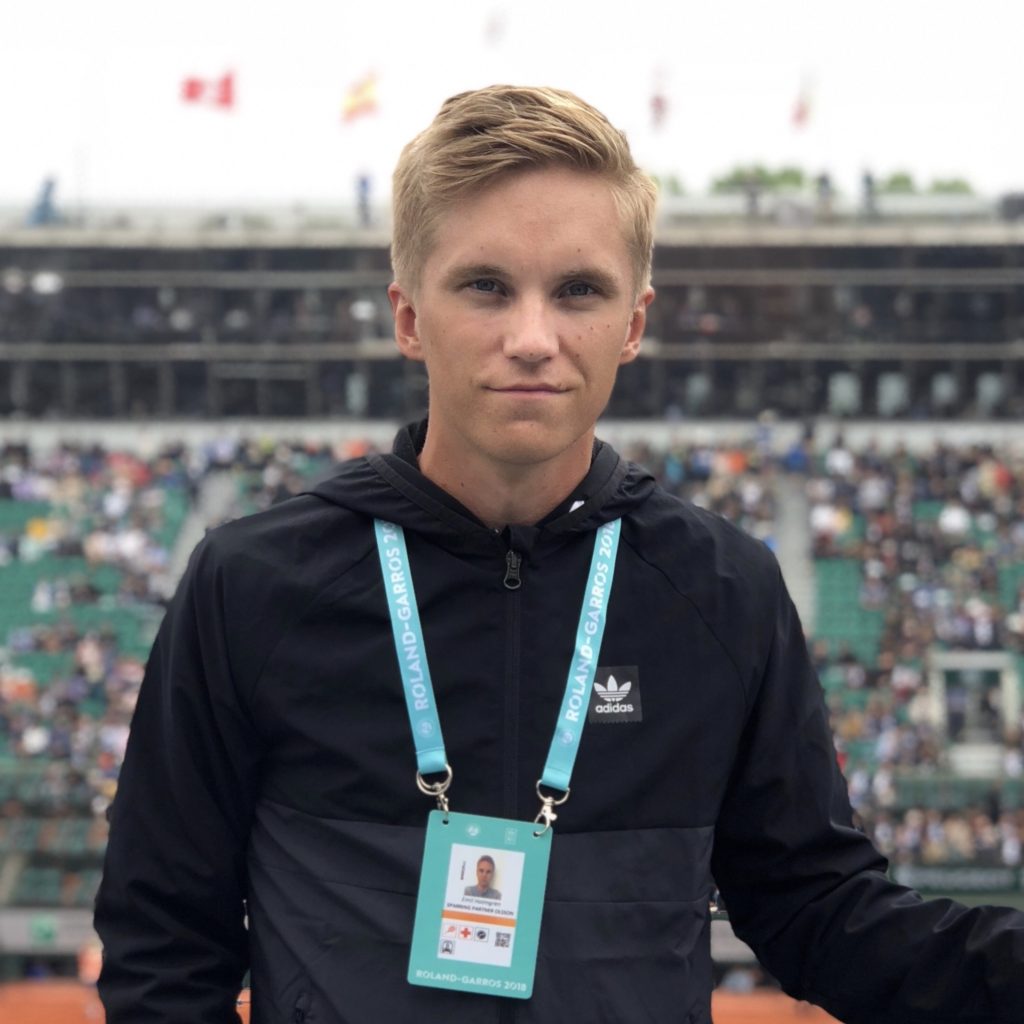 Why pursuing a career in sports?
You are working with a job in sports that many of us would call a dream job. How come you decided to pursue a career in sports? And mostly, why did you want to work in sports?
Sports has always played a big role in my life. As a kid I tried out many different sports, but at the age of eleven I fell in love with the sport Tennis. A few years later I had the opportunity to attend a School with an emphasis on sports. I then followed up with entering a High School specialized in tennis. During all this time I was competing in tennis on a national level.
With a lot of time spent at the tennis club in my city, Falun, I got highly involved with all things related to tennis, both playing and management. My next step into sport management at Dalarna University was quite smooth. The educational program already existed where I lived and I didn't have to consider other options. The reasons why I decided to study sport management was actually more of a step towards working with tennis in the near future. My own tennis level wasn't even close to going on the professional ATP Tour, but I wanted to stay in the field I love, tennis, and that is why I studied sport management.
How did you get involved with Tennis in Växjö?
I met my girlfriend in 2015 at the Swedish Open tournament, and she came from Växjö. Since a distance relationship is not optimal, I decided to move to her. I had the previous year already moved to Stockholm, working with the management running Kings of Tennis (ATP Champions Tour). I was sort of already on the move. During my time in Växjö it came quite natural for me to get in contact with tennis in the area. I reached out to Växjö Tennissällskap (Växjö Tennis club) and soon after that I was elected to the board. When the club decided it was vital to employ a club office manager, I got the opportunity.
The role of Sport Management education
Going back to your higher education in sport management. How was your student experience and how did it help you to get a career in the sport industry?
I look back at my student life as a positive experience. I never had to go through any major changes regarding my social life, I grew up in Falun and I knew my way around. The education itself was pretty good and it gave me a solid foundation for my future. One minor thing I missed was the opportunity to do internships, which wasn't part of the program. But this was mostly a problem for all students coming from other cities and regions. Myself, I already had a great network and kind of "had my own internship" during the whole education, at my tennis club, Falu Tennis Club.
What steps did you take to close the gap from being a student to becoming a sport professional?
I did many hours on a volunteering basis at the tennis club in my hometown. Due to all the time spent there I managed to build up great working experience, and I think this was the key for my future career. I have had many different experiences throughout the years and that is actually my number one advice becoming a sport professional. There are so many graduates in sport management every year, how do you separate yourself from everyone else? You have to be unique in some way. My niche was to doing everything in tennis. At the age of 20, I had already been a board member at my club for two years, I had done an internship at Stockholm Open, been a referee in lots of ATP/WTA competitions. I had also been traveling on several tours together with Stefan Olson (one of the top players in a wheelchair) and helped him with sponsoring and social media. Lastly, I had also been part of the management group at Kings of Tennis for two years. Without all of these experiences, I would never have the job I have today.
Working experiences with Tennis
At your current position, what are your key responsibilities?
Operations, marketing and recruiting new tennis players are my key responsibilities. As the Club Office Manager, I am expected to know more or less everything concerning the club and its surroundings. Everything from facilities, the economy, our data systems, marketing and yeah probably a lot more. However, I like learning new things and if there are matters I don't know about, I will make sure to get the right knowledge and solve the task.
Two things I really like doing, which is not in my job description, are taking photographs and doing graphical design. The good thing here is that we can use my personal interest outside tennis, to our benefit and have these skills in house. I am also working as a coach 8-10 hours weekly so we can keep the costs low in the club. I strongly believe sports clubs should recruit people with multi-functional skills.
What have been your focus since you started at Växjö TS?
Starting with our club's position before I got here, the whole organization was in a good balance. However, there was a focus on the core operations at the facility 'Strandbjörkshallen'. I noticed when I got here that we were lacking in our external communications, showing to our community what we actually were doing. That is why I started to create added value outside of our daily operations. For example, we have started the project 'Tennis on the street'. This is a project by the Swedish Tennis Federation where children in less developed areas in Växjö can play tennis at no cost, two hours per week.
To date, we have improved our marketing skills and are making sure that we are telling how proud we are with our different developments. One of our most exciting projects coming up is 'The tennis bus'. We are going to pick up children at their school and transport them to the tennis facility in our tennis van. We will provide them with snacks, a tennis practice between 2-3 pm and then we will have a daycare until their parents pick them up after work. This arrangement is a benefit for both the club and the parents. We get to fill up our courts earlier in the day and the parents do not have to worry about solving the logistics of life.
Last year (2019) I started to do some volunteer work with Hampus Linder-Olofsson, now ranked 2nd best wheelchair tennis player in Sweden. In this short period of time he has managed to win the Swedish Championship and the Nordic Championship, moved up from 350 in the world to around top 100. My purpose with this project is to improve and develop tennis by finding more para-athletes.
Getting a career in the sport industry
What tips do you have for students trying to get a career in the sport industry?
I mentioned it a bit earlier. Volunteer! Not only for one week at a competition. Provide your services to a local sports club. What can you bring to the table? Maybe you can run their social media? Or why not help them with their member's registration. Can you help out at their café? All experiences you can get are worth something, just keep in mind that it might take a while before you land your dream job. Try to find a person to follow, talk to and exchange some ideas with. In my case, I did this with Mattias Pennonen at Falu Tennis Club, Per Hjertquist who managed Kings of Tennis and right now I have Tuomas Heinonen in Växjö.
Finding a new candidate in sports
Lastly, you have just completed a process of recruiting a new colleague. Could you explain how you knew that this person was the one?
Yes, we just recently hired Calle, as our sport director who will be working with me. He has been a coach at this club before and he is one of the best in the country according to the tennis community. We are happy to get him back to our club, which is really a result of all the hard work we have done, proofing that we are doing something great. Calle has a unique way to motivate both players and coaches to take the next step, to excel and grow. We both believe that the first two years interacting with tennis are incredibly important. If you manage to make a great impact, the chances are quite good that they will turn into a tennis ambassador for the rest of their lives.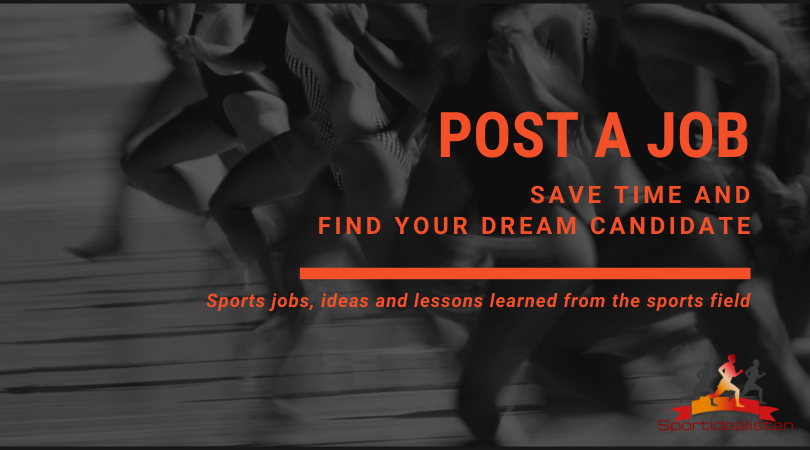 Save time when finding your dream candidate. Post your job within no time. Our vision is to have a world where everyone can work with their passion. On the Sportidealisten website, you have the opportunity to publish vacant job positions. Please create your free account and write your job post today or send your post to us like the Föreningskraft did.
And, what is your top 3 advice to other sports organizations when it comes to recruiting a new colleague?
I can only share my experience regarding tennis, and it is a rather small community, at least in Sweden. Everyone knows everyone. Just ask around and do not explicitly look for those with the best awards or achievements. Strive to get to know those who really love their work and are proud to work as, for example, a tennis coach.
---


If you like this, you might want to go further and read these:

– Why EASM helps your sports career
— What a current sport management student needs to know
– Why breadth is important for your career in sports
— How to become a senior research and insights executive in sports
We want to help more people finding their dream job and also feed you with the latest news and lessons form the sports world. Do you have any feedback or advice or news, please share that to us. You can contact us or reach out on social media, Twitter and LinkedIn.
See you soon with more lessons learned from the sports field that will enhance your creativity and your career in sports.