The Swedish University Sports Federation (SAIF), is a Special Sport Confederation (SF) that works with student sports at a national level. As a confederation, they primarily work with students at universities, colleges and adult education centers in Sweden who are interested in being physically active. Now they have recruited a new colleague, Linnea Asservik as a new sports club consultant. Get to know more about her and the role below.
One of our collaboration partners, SAIF have after the summer and the holidays 2021, expanded its office. New to the team is Linnea Asservik who will work as a sports club consultant!
This post is originally written here.
Welcome Linnea Asservik
Linnea Asservik is for many within Studentidrotten a well-known face where she as a member of Studentidrotten was involved at Halmstad Studenters Idrottsförening for several years. Among other things, as chairman for one year. Right now she lives in Gothenburg where she also grew up with sports as an obvious part of life. Here is a short interview with her:
I grew up in a sports-crazy family far out in the country a bit outside Kungälv. As an adult, I have moved around a lot but have now landed in Stenungsund, which is almost home. I am a YES sayer who loves to have several things going on at the same time. And I got a bachelor's degree from Halmstad University, as a Health Educator / Behavioral Scientist, where I focused on sports, says Linnea to SAIF's website.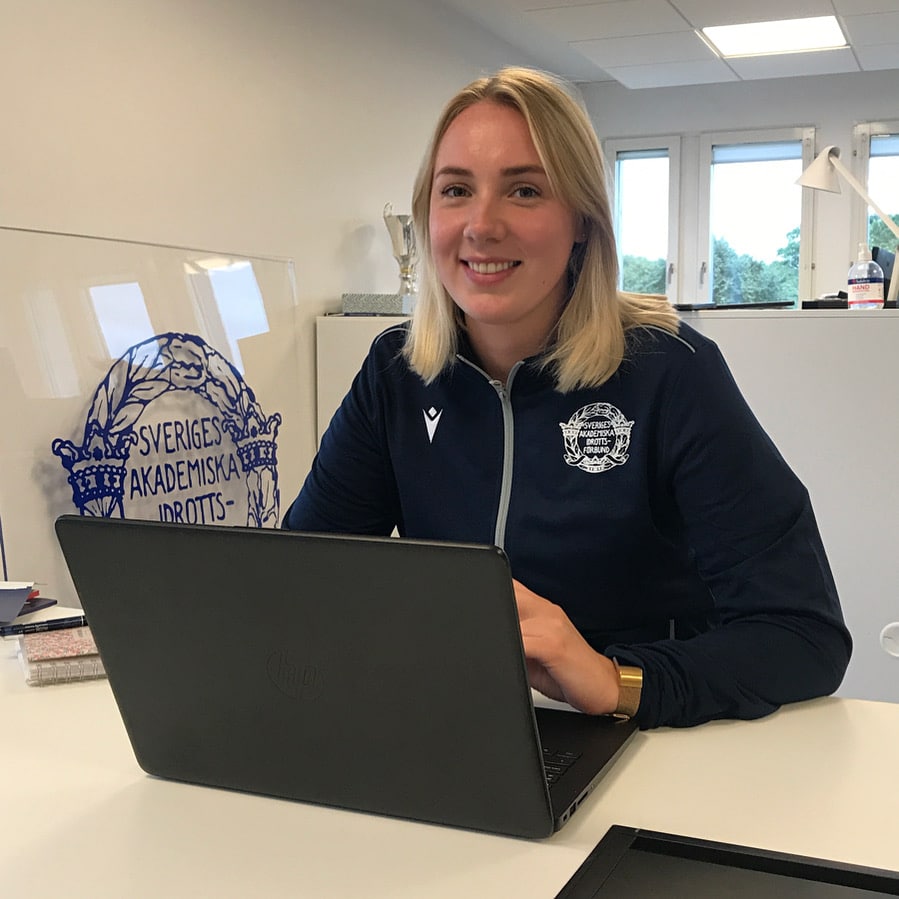 Student sports
What is your background in Student Sports?
During my studies in Halmstad, a classmate (who was then chairman of Halmstad Student Sports Association, HSIF) noticed my interest in football. I was coached to take over as project manager for their association Student League, which of course I said YES to. After this year, the chairman of HSIF needed to move and I then had the opportunity to take over. Together with a bunch of other super-committed students, we ran the association for a year. This was the most fun period during my studies there.
Already during her time at HSIF, Linnea was in contact with SAIF, where she took part in a board training on-site in Stockholm. She says that she immediately saw a future in working with sports clubs. Now she has made her first days and she says she has found the right place.
It feels incredibly good! The team here has been very welcoming and curious about my thoughts and experiences. I think we will have fun together. It has been a dream for me to work with sports clubs for a long time so I am super thrilled!
Sports club consultant
What is your opinion about the role as a sports club consultant since you have been in contact with that role a lot when you were at HSIF?
There was always so much commitment and joy from the club consultants that I had contact with during my studies. They had a desire to contribute their skills while they were always super curious about our thoughts and ideas. We had the opportunity to attend several educations and also apply for several financial support that really contributed to developing the club, says Linnea.
Now she hopes to be able to take her knowledge and skills, combined with her experience of sports club life to help SAIF' clubs forward.
I hope to be able to contribute with the experiences I have from the time "on the other side" as a student. I hope to be able to convey the joy I find in student sports to students, clubs and the whole team at SAIF, Linnea concludes.
During the spring of 2021, SAIF had the intern Jonas Fridell who has shared his experiences on SAIF's website, which we will share a bit here.
Get your next internship at one of the most exciting sports places in Sweden, SAIF.